#4 Hunting Disc
for Hunters $48.00

The #4 is designed to replace the existing fixed aperture in your peep sight. Our adjustable aperture allows good sighting in any lighting condition. The overall size of the disc is smaller than our target models, allowing low mounting and reduced weight. The #4 easily fits most tang sights with its standard size 7/32-40 thread. Some special threads are available for unique sights (contact us for information).

Click spring maintains aperture setting.
Withstands any recoil.
Aperture varies from .022 to .156 inches diameter.
Threaded shanks available in three lengths.
See size chart for proper length.

Shank
A Dimension
4 SS
4 LS
4 ELS
5/16"
11/32"
15/32"
See Size Info Page
Merit #3 Discs

The #3 Discs are adjustable apertures designed for target shooting.
The 12 leaf shutter opens and closes without changing point of impact.
The shutter leaves are supported at each end to withstand the heavy recoil
of big bore magnums and the unique recoil of piston/spring air rifles.
Available in two styles - Master and Target.
Aperture varies from .022 to .125 inches diameter.
Internal click spring maintains aperture setting.
Positive internal stop to protect from excessive torque.
Thread sizes available for most sights: 7/32-40, #10-32, #10-40.
Threaded shanks available in three lengths.
See size chart for proper length.
A metric adapter available for use on European 9.5mm-1mm threaded sights.
#3 Master Disc
with Flexible Neoprene Light Shield $66.00


This model is favored by high power shooters and other outdoor competitors.
Shaded aperture for deep well effect.
Light Shield easily trimmed to desired diameter.
May be converted to Target model at later date.


Master mounted in Frank Zika Tang site.
#3 Target Disc
with Steel Face $56.00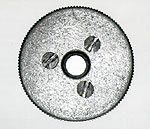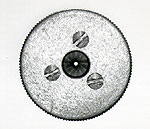 This model favored by indoor smallbore, and Air Rifle competitors.
Light Shield can be added at a later time.
Shank
A Dimension
S S
L S
3 A
19/64"
11/32"
15/32"
See Size Info Page
Merit Lens Disc
For the rifleman who requires, or desires, an optical lens to further sharpen his sight picture. This disc utilizes the #3 aperture assembly and provides a cavity to mount a prescription ground lens.
Lens is properly cushioned to protect it from shock of recoil.
May be easily removed for cleaning or replacement.
You are always sighting through the optical center of the lens.
Eliminates steaming of glasses.
Your eye doctor can prescribe the appropriate correction for the lens. Most opticians can grind a lens for you locally. If unavailable though, contact:

Bob Jones
5115 East Edgemont
Phoenix, AZ 85008
(602)840-2176 6-10pm MST

The Merit Lens Discs are available with or without the rubber Lightshield.
Master Lens Disc
with Lightshield $78.00